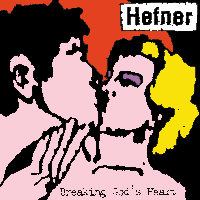 Originally released 6th July 1998. Re-issue released Autumn 2007
Hefner's debut was originally released in 1998, but is now available as a 2 disc edition. The new version includes all the b-sides and all the singles surrounding the release, including Pull Yourself Together, the Hefner Soul EP and the original long deleted first singles on Boogie Wonderland. This release also features new artwork and sleevenotes from Darren.
Drowned in Sound Review by Patrick McNally
Hefner songwriter Darren Hayman is probably the type of fella who finds himself lying on his bed covered in sweat, unable to cum as his masturbatory fantasies twist and turn in endless expository scene setting, with accumulated irrelevant detail taking him ever further away from the vinegar stroke. That's the impression given by the songs on this expanded reissue of Hefner's 1998 debut album, the first in a series collecting everything they released plus extras. The contents of these two CDs are as hornily obsessed with fucking as a Lil' Kim brag-track but also constantly worry at the real-world problems around how to get, and keep, a partner. Don't front; you've been there. Hayman writes in the sleevenotes that he'd "gone about two years without a shag" when he wrote these songs and that hallucinatory quality of believing that you're fit to lie between the knees of angels whilst simultaneously grimly hoping that the librarian stamping your books recognises your inner-beauty from them radiates from this music.
Fitting the tone of his words, Hayman's voice is glottal stopped and conversational, the music keeping things moving swiftly underneath in a kinda choogin' motorik — like a folksier version of (then
labelmates) Stereolab. The band themselves describe their music as "skiffle" and whilst I can see where they're coming from, that now brings to mind the past few years' slew of unpleasantly sloppy post-Libertines bands — instead, Hefner are running on the same rock-not-rock fuel as early Violent Femmes or The Modern Lovers, and like those groups are expert at building emotionally charged arrangements by adding or subtracting at precisely the right time. When they want to, like on 'Love Will Destroy Us In The End' or 7" track 'Pull Yourself Together', they rally a tremendous post-punk
rhythmic drive, which is even more impressive as much of this early material doesn't have a kick-drum (coz the drummer wanted to get to gigs on the tube — though even minus kick that's still an impossible amount to carry). At the other end of their spectrum the desolate room-sound piano and measured vocals of the grubbily sad'Tactile' deflates the mock-mythic kitchen sink dirtiness of the rest of the album.
From when I first heard this record, sometime not too long after its original release a decade ago, Breaking God's Heart has been a well that has never run dry for me, that has affected me in times of break-up and new love. Hopefully this reissue programme will mean that these songs may finally get the chance to move as many people as they deserve to. 9/10
Buy Breaking God's Heart on 2CD
We also have a limited stock of the original CD release.
Or buy the downloads from Bandcamp