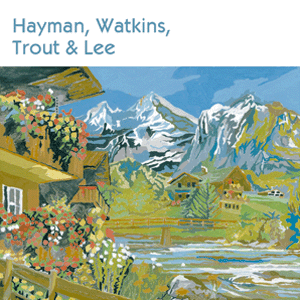 Released 6th May 2008
Hayman, Watkins, Trout and Lee are a country, bluegrass band from East London. They don't sing in American accents and their songs feature tube trains, Bethnal Green, sick days, flat lemonade and unmade beds. HWTL perform weary singalongs; fragile and flawed ballads that wipe a tear and force you to smile.
Darren Hayman (ex Hefner) formed the band with Dave Watkins, in 2005, as an antidote to their 'career' bands. The idea was that this would be a band with as little ego as possible, with everybody taking vocals, submitting material, leaving and arriving as they wished. The group is as much about playing around Darren's kitchen table as it is playing on any stage.
In the spirit of Big Pink, the Basement Tapes and the first McCartney album, it was decided to record the album in two days at Darren's house, with a bunch of battered microphones, a fresh pot of tea, and some fruit cake. The resulting recordings feature seven band originals (four written by Darren and two by David Tattersall) alongside covers of songs by Townes Van Zandt and The Mountain Goats and smattering of traditional tunes.In fact the original idea was even to avoid the notion of doing records. However when Dave Tattersall (The Wave Pictures) joined in 2007 with a whole repertoire of blues and country songs, as well as his own fantastic ballads, it became obvious that they had something worth preserving.
Hayman, Watkins, Trout and Lee let you peer though the cracks of their kitchen, and hit nearly all the right notes in the process. Let them give you a warm handshake.
Buy Hayman, Watkins, Trout and Lee on CD
Or buy the download from Bandcamp for £5