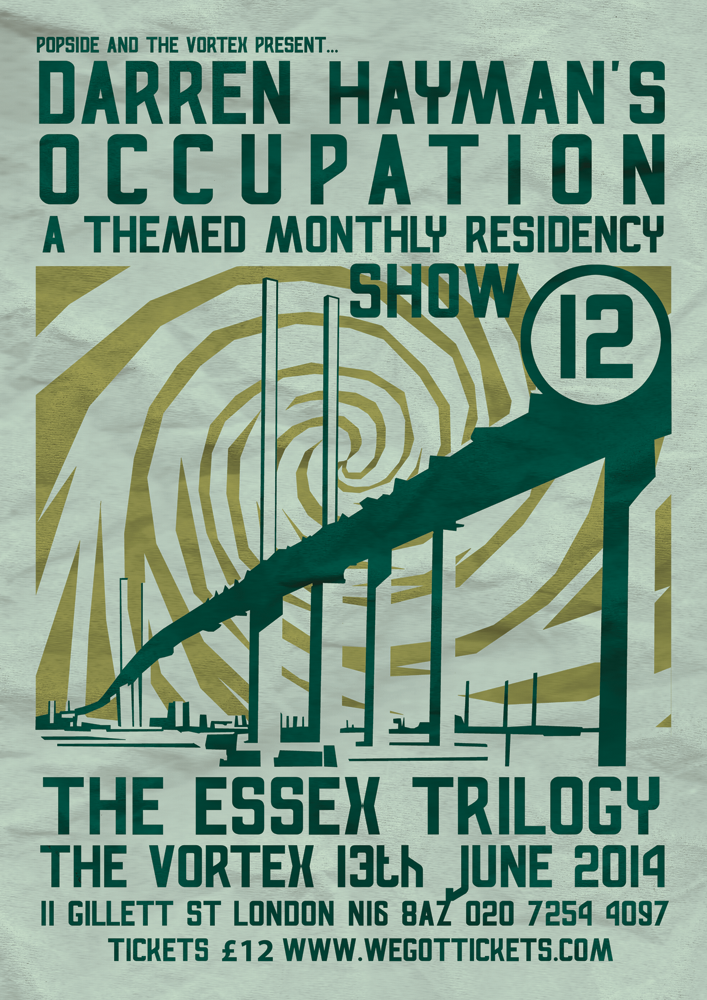 ….and so we come to the final Occupation and it is perhaps apt that we return to these three albums for these shows. The shows where I played Hefner songs obviously sold out quickest and on a few occasions we ran over to two nights. However these three albums, I feel, represent the best of what I do and I'm happy to indulge in these songs for an evening.
It's about the place I come from and, despite the character lead songs,they are more about me then you might realise.
I will have the Secondary Modern with me for this show and support will come from Enderby's Room (featuring Dan and Emma from the SM). We're also trying to sort out some DJs for a post Occupation party downstairs afterwards.
Tickets Here. http://www.wegottickets.com/event/274091
13th June 2014
The Vortex
11 Gillett Square, London N16 8AZ
www.vortexjazz.co.uk
Doors 8pm
£12 Adv
www.hefnet.com
@DarrenHayman
@VortexJazz
@ThePopside
Darren Hayman's Occupation is a series of monthly shows at The Vortex, Dalston. There will be a mix of sets showcasing different albums, themes and special guests. This is not your standard indie gig:
"I love gigs. I hate gigs.
I want to play live and I love what shows can be, but I've found myself frequently stifled by the limitations of my career. I can't play the plush, seated venues and I can't experiment with a string section or play 20 minute opuses.
My music was born in the sticky floored rock venue. I like the sticky floored rock venue but I have had a hankering for something different recently. My own taste has veered towards free improv and jazz and although it's hard to imagine that music influencing my own I do love the culture of live music in this genre.
Long sets, sometimes two, comfortable venues and a reverence and respect for the event and the moment; less talking, less cameras, more dynamics, less microphones.
I wondered if these would let an indie rock interloper amongst their ranks. My show at the Vortex back in last November was successful enough to make me think of playing a monthly residency there.
The idea is that each show is themed. I don't want to go the whole predictable route of playing complete albums, but rather group, types of songs together for different evenings. Experiment, sometimes play two sets, sometimes have unlikely guests. I will be playing with members of my bands from through out my career as well as old friends like the Wave Pictures and Allo Darlin.
The Vortex is a beautiful venue. I'm trying to do something different; something, smaller, prettier. I hope you can come."