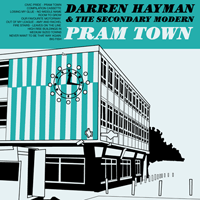 Released 26 January 2009
'Pram Town' was an affectionate name given to Harlow, Essex in the early 1950s. It was coined to reflect the sudden influx of young families to the 'New Town'. New Towns were built in the aftermath of the Second World War. New Towns were designed for modern and future life and intended to be the antidote to the city.
But towns aren't designed; they evolve. Concrete crumbles and plastic cracks and all the civic amenities in the world couldn't put a heart into Harlow. As everybody on my street put faux Tudor leading on their windows and dreamt no longer of modernity, I escaped to London.I didn't grow up in Harlow. I grew up in nearby Brentwood. I lived on a late-1960's housing estate designed with the same Le Corbusier/Bauhaus aesthetics and ideals. I love and loathe these places. When seen on paper they are the streamlined epitome of the past's future vision. When newly built, their pristine simplicity made homeowners glow with pride.
'Pram Town' is a set of songs about someone who doesn't escape. A big fish in a little pond who is thrown a lifeline whilst fare-evading in a first class train carriage.
This record is about good ideas gone bad. It's about how pride can lose you love. It's about high and low ambition and the gap between.
Released January 26th 2009
REVIEWS FOR PRAM TOWN
'Played straight from the heart…this is a gorgeous album.' – Word
'A charming tale with melodies that will buzz around your head in the cold weeks to come.' – Narc Magazine
'Heartbreaking' – Q Magazine
'These 50 minutes of bittersweet prettiness are a delight…it utterly charms…nearly has me in tears.' – Plan B (magazine)
'A high rise Robyn Hitchcock backed by Belle and Sebastian this is indie worthy of the name.' – Financial Times
'This is by far the most accomplished solo album from Hayman and evidence that age is helping the songwriter explore rich, virgin territory. Long may it continue.' – Culture Bully / Fresh Deer Meat websites.
'…driving home this morning I had to pull over as tears started prickling at my eyelids.' – Everett True – The Guardian
'…deserves to be hailed as a minor classic – the guy is a jewel in England's musical crown and this is his best yet.' – National Student Magazine. 'One of his most creative and peculiarly tender albums yet.' – The Fly
Buy Pram Town on CD
Or buy the downloads from bandcamp for £5.50