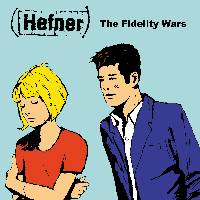 Originally released 12th July 1999; 2CD released 2nd June 2008
The second in our series of re-releases, Hefner's second album 'The Fidelity Wars' was the album that won them their critical acclaim and their cult audience. 'Hymn for the Alcohol' and 'Hymn for the Cigarettes' made it to numbers 2 and 3 in John Peel's Festive 50, and the album itself was number 1 in the indie charts on its first release. This version has 40 tracks (29 extra tracks, 19 of which are previously unreleased) and also features new artwork and sleevenotes from Darren.
Review from http://www.pennyblackmusic.co.uk/
Hefner : The Fidelity Wars 
Author: Benjamin Howarth
Published: 20/04/2008
I can remember clearly when I first listened to Hefner. At the end of 1999, five of their songs popped up in John Peel's Festive 50, including at positions 2 and 3. Four of those came from their album, 'The Fidelity Wars', which I promptly bought and subsequently played to death. Eight months later, I began writing for this website. My first review was of Hefner's next single, and my first interview was with the band's singer and songwriter Darren Hayman.

I went off the band for a bit, probably just because I had listened to them far too much. But after Hayman begun a solo career, hearing these new albums reminded me how much I liked his old songs. Obligingly, Hayman has begun a reissue program of these albums, putting them in their proper context alongside high quality B-sides, EP tracks, live recordings and demos. The second release in this series, 'The Fidelity Wars', comes with the 'Hefner Heart' EP, as well as some excellent B-sides and is good value even to those of us with copies from the first time round.
After 'The Fidelity Wars', Hefner could almost call themselves a mainstream band. They could boast video airplay on MTV2, coverage in the weekly music press and glowing reviews almost everywhere else. Most importantly, they were a favourite band of the two DJs that occupied Radio One from 8-12 every weekday evening, Peel and Steve Lamacq.
At this time, Hefner were often compared to Belle and Sebastian. Musically, that comparison barely stands up. Both were wordy "indie" bands, inclined to singing slightly off-key and disinclined to doing anything fancy with their instruments. But that's about as far as the comparison went.
If I had to compare Hefner to anyone at this stage of their career, it would be Elvis Costello – both wrote naked, sometimes embarrassing lyrics and played light punk with soul influences. But it's a lazy comparison. I suspect that Hefner's greatest appeal was that they didn't sound much like anyone else.
Nine years on, John Peel has not been effectively replaced and Steve Lamacq is in purgatory on digital radio. Consequently, the music on 'The Fidelity Wars' sounds even rarer. Granted, this is partly because the production is audibly cheap, but even this has its virtues – it actually sounds like the band are in a room together playing the music you're hearing.
Listening to it now, I'm surprised at just how varied the music is. Hefner are surely dismissed by some as throwbacks to the 80's, but this is unfair. 'The Fidelity Wars' owes as much to country and soul as it does to punk. Never does it lapse into lazy, jangly indie-schmindie.
Hayman's lyrics have always set his music apart, and 'The Fidelity Wars' finds him at his most impressive. This is a collection of songs about the break-up of a relationship (though he is now married
to the girl in question, she insists this album had nothing to do with it). Plenty of bands have done that, but few as distinctly as Hayman.
A friend of mine explained to me recently that the reason he didn't really trust the cinema was because only very attractive people ever seemed to have sex in films. He wouldn't have a problem with this album, although our narrator is "disappointed that her hips are that wide" and by the "gap between Fat Kelly's teeth." We follow him through a few one night stands, though in between he tries to win his ex back with whisky (didn't work) and wonders why she hasn't called him. Eventually, the final track concludes 'I Love Only You'.
In the media's eyes, Hefner didn't build on this album, though a compilation 'Boxing Hefner' got the band even more attention. Neither the follow-up 'We Love The City' or the electronic based 'Dead Media' got anything like as good reviews.
Hayman himself has said that he finds this album a little difficult to listen to. He prefers 'We Love The City'. That album is certainly better produced, and its best moments probably do outrank the songs here. But 'The Fidelity Wars' shows an imaginative band at their most coherent, and a songwriter at his most adventurous point. It comes together as an album with a narrative flow and an individual voice. This is the kind of album that could be cited as one of those cultish favourites for some time to come.
Buy Fidelity Wars on 2CD
Or buy the downloads from Bandcamp