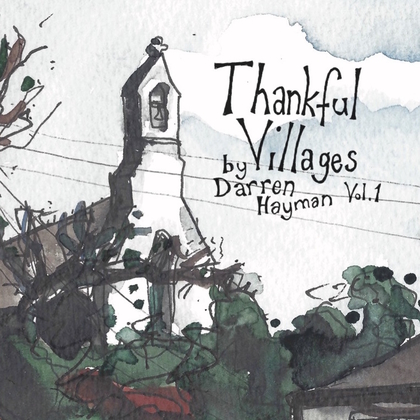 Darren Hayman will release his enthralling and ambitious new album Thankful Villages via Rivertones on 3 June.
A Thankful Village is a village in Britain where every soldier returned alive from World War I. The writer, journalist and educator Arthur Mee coined the term 'Thankful Village' in his series of guidebooks, The King's England in the 1930s. Darren Hayman visited each of the 54 Thankful Villages and, focussing on village life, made a piece of music and a short film for every one. Some take the form of instrumentals inspired by the location, some are interviews with village residents set to music, others are new songs with lyrics or found local traditional songs.
This is the first (of three) volume of the project and contains the first 18 villages that Darren visited during 2014/15. The pieces do not necessarily refer to the Great War, rather they portray the village and it's communities at many points in history. In "Stocklinch" Ros tells a story of a painting of the old church changing hands through the village, whilst in "Strethall" Darren sings a story of infidelity from the parish records from 1607 and in "St Michael, South Elmham" Dolly tells the story of her melodeon playing father and his adventures in Salonika.
One of the most catchy songs on the album is the final track, "Bradbourne". Written at a low point for Darren, the song is nonetheless an uplifting collage of vocal harmonies about how, despite not being religious, the churches in the Thankful Villages acted as a refuge from life's troubles.
Many pieces are instrumental, with Darren sitting on a blanket in a graveyard, teasing out melodies on old wooden instruments amongst bird song and the soft braying of cattle. Lyrics also appear with Darren writing on old church organs and weaving the local congregations into his songs.
Thankful Villages is a collage of Britain's hidden places. Rich in history and community, Thankful Villages is a further chapter in Darren's journey through the country underbelly. Recent records include laments for lost Lidos, re-imagined 19th Century political chants and a tale of terror set in during the English Civil Wars.
Please join Darren for a beautiful walk through Britain's Thankful Villages.
Order Thankful Villages Vol 1 on CD INCLUDING POSTAGE AND PACKING
Order Thankful Villages Vol 1 on vinyl with download code INCLUDING POSTAGE AND PACKAGING
TRACKLISTING
12″ VINYL ALBUM (RIVERTONESLP4)
Darren Hayman – Knowlton
Darren Hayman – Culpho
Darren Hayman – St Michael, South Elmham
Darren Hayman – Puttenham
Darren Hayman – Stoke Hammond
Darren Hayman – Little Sodbury
Darren Hayman – Rodney Stoke
Darren Hayman – Holywell Lake
Darren Hayman – Aisholt
Darren Hayman – Stocklinch
Darren Hayman – Strethall
Darren Hayman – Welbury
Darren Hayman – Scruton
Darren Hayman – Chelwood
Darren Hayman – Langton Herring
Darren Hayman – Herodsfoot
Darren Hayman – Butterton
Darren Hayman – Bradbourne
CD ALBUM (RIVERTONESLP4)
Darren Hayman – Knowlton
Darren Hayman – Culpho
Darren Hayman – St Michael, South Elmham
Darren Hayman – Puttenham
Darren Hayman – Stoke Hammond
Darren Hayman – Little Sodbury
Darren Hayman – Rodney Stoke
Darren Hayman – Holywell Lake
Darren Hayman – Aisholt
Darren Hayman – Stocklinch
Darren Hayman – Strethall
Darren Hayman – Welbury
Darren Hayman – Scruton
Darren Hayman – Chelwood
Darren Hayman – Langton Herring
Darren Hayman – Herodsfoot
Darren Hayman – Butterton
Darren Hayman – Bradbourne