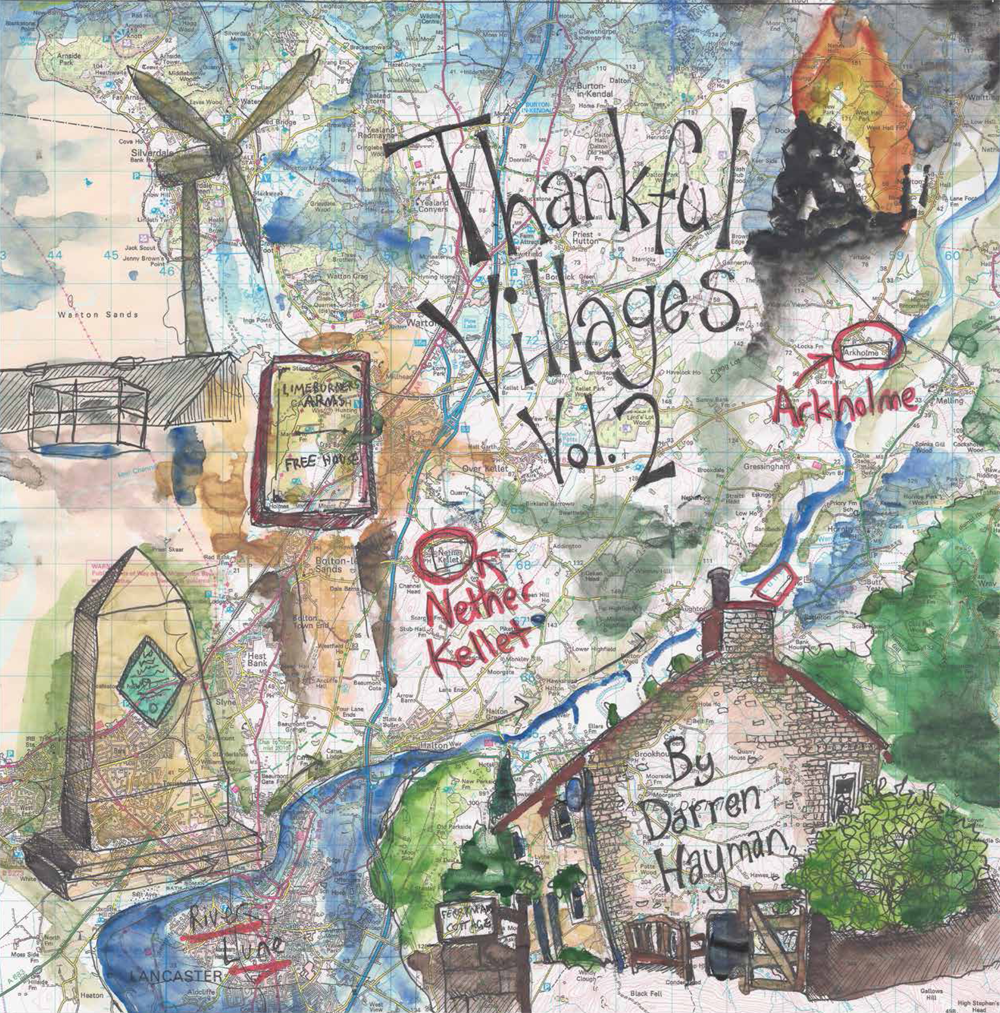 English songwriter and former Hefner frontman Darren Hayman continues his journey around the United Kingdom's 54 Thankful Villages. A Thankful Village is a village where every soldier returned alive from World War One.
An ongoing and hugely ambitious folk project, Thankful Villages is only partially concerned with the war itself, moreover it is a celebration of British rural life. Darren pulls together first person interviews, folk tales and songs, field recordings and his own personal experiences to create a vast patchwork depicting community, history and legend.
Thankful Villages Volume 2 is less an album but something akin to an arcane musical radio documentary. The success of the first volume of Thankful Villages has encouraged Hayman to go deeper into his subject. Themes of "the river" and "death" weave their way through these eighteen villages. A centuries old drowning is uncovered in "Arkholme" on bonfire night. Dennis, the river man, tells us of a tragedy on the Weir in "Cromwell". Judy Dyble, the original singer of folk legends Fairport Convention, joins Darren in the village of "Upper Slaughter" and sings a lyric about the generations flowing like water through the village.
Darren uncovers two World War II air disasters in "Woodend" and "Wrigsley", where he records in the abandoned control tower at the airfield, the so-called cemetery of lights. Perhaps the most shocking and miraculous of tales is found in "Flixborough" where in 1974 the local plastics factory exploded killing everyone inside but nobody in the lucky village. Derek and his son tell us the story of finding each other amongst shards of glass.
However, glimpses of light shine through the darkness; a sunny day of wild swimming in "Telisford", a village fete with bell ringing in "East Norton" and a tale of a grateful Belgian Refugee in "Norton Le Clay".
Thankful Villages Volume 1 garnered a great deal of media attention, with features in broadsheets including The Guardian, Financial Times, The Independent and The i Paper. Darren also appeared on The Verb with Ian Mcmillan, Loose Ends and interviewed for a feature on Radio 4's PM programme.
Darren played special concerts around the release, doing a rendition of his Thankful Villages set with accompanying visuals and films, headlining with a full band as well as solo supporting British Sea Power. A collage of Britain's hidden places, rich in history and community, Thankful Villages is a further chapter in Darren's journey and a testament to his remarkable work ethic.
In 2016 Darren was awarded the title of 'Hardest Working Artist' at the AIM Awards for the Thankful Villages project and his prolific career.
Thankful Villages Volume 3, which will appear in November 2018, has been given funding by the Arts Council.
Order Thankful Villages Vol 2 on CD INCLUDING POSTAGE AND PACKING
Order Thankful Villages Vol 2 on vinyl with download code INCLUDING POSTAGE AND PACKAGING
Or download from Bandcamp for £7
Tracklisting:
Cundall (Yorkshire)
Norton Le Clay (Yorkshire)
Flixborough (Lincolnshire)
Chantry (Somerset)
Tellisford (Somerset)
Woolley (Somerset)
Shapwick (Somerset)
Cromwell (Nottinghamshire)
Wigsley (Nottinghamshire)
East Norton (Leicestershire)
Maplebeck (Nottinghamshire)
Stretton En Le Field (Leicestershire)
Nether Kellet (Lancashire)
Arkholme (Lancashire)
Colwinston (Glamorgan)
Upper Slaughter (Gloucestershire)
Woodend (Northamptonshire)
Coln Rogers (Gloucestershire)