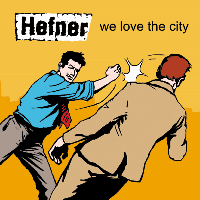 Released 16th October 2000; 2CD version re-released 28th September 2009
We Love the City was Hefner's commercial and creative peak.
Having cleared a large backlog of songs on the band's first two albums and various B-sides, for their third Darren Hayman wrote a new set of songs, loosely themed around love in the capital city. We Love The City eschews the band's former broken indie-folk sound in favour of a bouncy, urban, blue-eyed soul, and an expanded line up including Hammond organs, Wurlitzer pianos and brass sections.
Songs like 'Greedy Ugly People', 'Good Fruit', 'Painting and Kissing' and 'The Day that Thatcher Dies' are typical examples of the direct, infectious, intelligent style that endeared Hefner to so many. The album's narrative is conceptual and played out by a retinue of vividly drawn characters, but at heart this is Hayman's most personal and focussed work.
Always championed by John Peel, promotion for this album culminated in a full, real time performance show session, broadcast live from BBC Maida Vale (now available elsewhere as the album Maida Vale).
This two-disc set expands the original album to a mighty 39 songs, including all of the relevant B-sides, substantially different alternate versions and surprising remixes from Electric Sound of Joy, Piano Magic and The Wisdom of Harry.
Review of We Love the City from http://www.thelineofbestfit.com/
BY SIMON TYERS, 8 OCTOBER 2009
Hefner's posthumous merchandise bears the legend "Britain's biggest small band". With 2000′s third proper album We Love The City they nearly became Britain's smallest big band, cracking the top 50 with the preceding single 'Good Fruit' and playing a good amount of big festivals. Up to this point they were self-made men who sounded like they recorded ad hoc in bedrooms after listening to too many Jonathan Richman and country records and never got round to understanding women. Darren Hayman claims in the liner notes that this is his favourite of their four albums, the first to be written towards a whole album rather than a selection of tracks plucked from his back catalogue. He's also said it was influenced by Dexys Midnight Runners' Searching For The Young Soul Rebels, a grand statement to make but, if it doesn't come up to Kevin Rowland's famously exacting standards of hard-hitting soul, the occasionally expanded musical palette tacked onto the reliably ramshackle basic indie trio template (although Hefner were a quartet by now) and raw emotional core give it a blue-eyed sheen that demonstrated why they earned themselves such a cult following bereft of major press or radio support.
Claimed at the time as a concept album about London, it's more apparent that the lyrical theme is more of people being in love in and against the city, its boho aspirations and commuter daily grind. "This is sixth form poetry, not Keats or Yeats" Hayman cautions on the title track, but in its field his character studies and urbanity appreciations touch a nerve, albeit not the same one suggested in 'The Day That Thatcher Dies'. While nobody would ever claim he possesses one of the great voices, it carries here as an emotional, yearning tool that benefits the likes of the querulous, Violent Femmes-ish 'Don't Go' and 'The Greedy Ugly People', unyielding in its triumphant coda "love don't stop no wars, don't stop no cancer, it stops my heart". The title track frames his appreciation of the city "that never loves us back" in a frame that specifies it's only because "because it lets us down", thinking big and bringing people together despite itself. It's actually a much more solid, consistent album than memory recalls. Shining anew the best is 'The Cure For Evil', a piano led love song that implicitly fears mutual adoration might fall apart through either neglect or overdoing it, featuring one of six guest vocal appearances from Amelia Fletcher (Talulah Gosh, Heavenly, Marine Research, Tender Trap) and a triumphant brass coda.
Hayman's archive-clearing exercises on these reissues has been all encompassing, and this one gives us an extra 27 – count 'em – tracks. The B-sides (sadly not including their cover of David Soul's

'Don't Give Up On Us') essentially sound like lesser versions of the sound of this and the previous album, bar the odd and not un-proficient analogue pulsing of 'Blackhorse Road', a sound Hefner would take up fuller on next album Dead Media with, shall we say, mixed results. The demos just sound like less produced versions of the same tracks as on the album. Boxing Hefner, the odds'n'sods compilation that preceded this record, offcuts 'Lee Remick' (not the Go-Betweens song of the same name, although it sounds a bit like them), about family feuding and "all my pretty friends who just grew up and failed", and 'The Hymn For The Things We Didn't Do' are worth seeking out, while the remixes give up on remodelling much of the songs and go their own direction. The Electric Sound Of Joy, big Lamacq tips at the time, offer a brass-motorik crossover, Baxendale turn 'The Greedy Ugly People' into warped spangly electro and the usually dreampop collective Piano Magic literally cut up 'Good Fruit' into something often not far from the Ibizan sound, if you can imagine such a thing.
"The city has no faith if we've no faith in the city/But this is my home, this is where I want to be" Hayman asserts amid the whirling organs and brass flourishes of 'The Greater London Radio'. It's an ambitious statement that dovetails with the great leap forward into lusher arrangement and production territory that, if only for this album, Hayman and Hefner made. Strip away all that, though, and at its heart are tremendously romantic, intelligent songs that demonstrate how, from a bare bones guitar-bass-drums indie outset and beyond all stylistic ideals, Hefner found their own unique voice.
Buy We Love the City on 2CD
Sold out
Or buy the downloads from Bandcamp