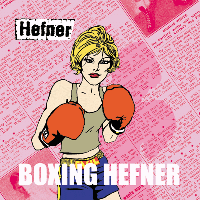 A compilation of a-sides, b-sides, rarities and unreleased songs, Boxing Hefner features three Steve Lamacq BBC sessions and one Peel session, alongside several previously-released songs, and according to Darren contains more of the band's live favourites than any other Hefner release.
Review of Boxing Hefner from pennyblackmusic.co.uk
BY SCOTT MILLER
As far as I can tell, Hefner has a pretty healthy buzz in the UK, which is why I feel a little self-conscious writing this review. See, I live in the US, and, while I'm sure there are pockets of folks here who love Hefner, they're not what you'd call a household name. In other words, before I got this record a few weeks ago, I had never heard them. So please cut me the same type of slack that you would a kid from Greenland who was gushing about how great this new band Belle & Sebastian are in a review of 'Boy With the Arab Strap'.
That said, on to the gushing…
I got Boxing Hefner in the mail with a bunch of other stuff that I was unfamiliar with. I was going through one of those periods where it suddenly strikes me that there must be tons of great new bands that I'm missing out on- so I ordered a bunch of stuff I'd never heard & waited patiently for the enlightening shipment to arrive.
There's a pretty great alley in Sacramento (where I live) that goes really far back & dead ends in to a fence. No cars ever drive up it & it's covered by trees & not all messed up by broken bottles or anything. Not to mention some gracious woman (who I'd thank profusely if I wasn't fairly certain that she'd freak out if she knew kids were hanging out behind her house) has stored a bunch of lawn chairs in the alley, so we've made it our personal little hangout where we can listen to records (on the coveted battery operated record player), shoot the breeze, and mysteriously, some beer or wine usually appears on the scene. I was by myself the day that the pregnant package arrived (is there anything worse than waiting for something exciting in the mail?) so I took it to the alley & released a bit of stale UK air & some 15 records.
I kind of circled them at first like you do with the presents at Christmas time – trying to formulate some strategy that will make for an inspiring order of events – evenly spacing out the socks, the gift certificates, & the stuff you REALLY hope you got. And of course, you want to save the best one for last. I'd say I did
pretty good – there were some pretty great singles in there (and, yes, a few pairs of socks) & I was feeling pretty good about the future of pop music. Pretty good is all I expect most of the time so when I lazily grabbed the last record, I was already pretty full (not to mention, the sun was going down). But this record, it turns out, was no last piece of ham at Christmas dinner that one mindlessly eats, despite being stuffed, solely, I suppose, because it's the last piece (& it looks so lonely.) No, this record with the silly cartoon on the cover, this record by a band whose name totally rubbed me the wrong way, this "Boxing Hefner" turned out to be the proverbial last, greatest present under the tree. 3 weeks later, it's so ingrained in my brain (in fact, I'm listening to it right now) that it's hard to think back to my first impressions, but I'll try.
"Christian Girls" was first & I liked it OK but there was still that initial mistrust of something new going on. "Lee Remick" was second. And third. And fourth. I don't know exactly what Lee Remick did to deserve to have 2 of the greatest pop songs in the world written about her, but it must have been pretty great (or maybe it's just those eyes). Anyway, this isn't the Go Betweens song, but a gorgeous ballad that seems to me to be about growing up & realising that things aren't so perfect, but still revisiting (thus somehow retaining) your innocence via the things you obsessed on when young. The things that became symbols of God knows what but Christ they were important- in this case, Lee Remick. I suppose that lots of bands can write about bittersweet things like that, but Hefner make their songs SOUND like what they're about. Do you know what I mean? It's more than 'Sad Song = Slow'; Happy Song = Fast'. The lyrics equate with the music so perfectly that you get the feeling that the songs were written, if not at the same moment, at least on the same day as the things they sing about happened. They're neither lo-fi nor overly polished – simply naked.
The obvious focal point of the group is Darren Hayman, who sings, plays guitar & writes the songs. His voice, though not what you could call good in any traditional sense, is absolutely perfect, no essential, for the songs.
Ahh..the songs. They're little epics sung with so much damn passion – a passion that matches blow for blow the highly personal (& sometimes uncomfortably specific) lyrics. It also makes for a completely obsessive experience, and when you're obsessed, you don't always think too clearly.
Take this review – I'm fairly sure the point I started to make an hour ago about "Lee Remick" & how I listened to it over & over has digressed- or maybe blurred is a better word.
Yes, my point has most definitely gotten very blurry.
I'm no longer in the alley, that's for sure. I was briefly at the record store the next day buying their second record 'The Fidelity Wars' (another story and a GREAT album!) but I'm not there anymore either.
I think maybe it's Monday morning now (I got Boxing Hefner on Friday) & I'm crawling in to work. Everyone's asking me what I did this weekend & I'm giving them answers that are best suited for their individual personalities. I didn't tell anyone what I REALLY did though – it was just too hard to explain. What I REALLY did was listen to Hefner. First thing in the morning, walking around, at a show, going to bed….that's what I did.
I was watching Raging Bull on Sunday evening and I was marvelling at how for each amazing, scene-stealing performance that DeNiro gave, Scorsese matched it blow for blow with the most awesome camera angle and/or visual. Then I thought about how Darren Hayman does that with his music & lyrics. Obsessed, I said.
But I realise that I need to make some sense now since this is supposed to be a review – but really there's no way to properly describe how music sounds, and comparisons are usually lazy. Case in point: from what I've read, these are the comparisons Hefner most often get in the press. Belle & Sebastian, Violent Femmes & Jonathan Richman.
First, everything gets compared to Belle & Sebastian these days, but I've never heard any bands that sound like what I like about B&S. The only thing I can think of is that most bands have a hard time putting out a completely interesting album & both Hefner & B&S have done that. But where Belle & Sebastian might insert a perfect trumpet solo, Hefner are more likely to throw in a raggedly inspired Trombone bit.
The Violent Femmes makes some sense. Both have simple, live sounding instrumentation that often leans to the acoustic side of things – but while the Violent Femmes helped define underground music in the 80s (at least in the US), Hefner are very much English & I also feel that what they're doing is most definitely not "80's". I actually threw on the first Violent Femmes record recently to see what I felt about the comparison, and I'd say that 'Good Feeling' comes close to the simplistic beauty that Hefner are capable of.
Jonathan Richman is accurate in the sense that both share a refreshing directness & honesty, a sort of timeless quality & each have imperfectly perfect voices, but let's face it, nobody is like Jonathan Richman, Hefner included. (They do, however, do a great version of J. Richman's "To Hide A Little Thought" on Boxing Hefner that's every bit as good as the original, and, as only great bands can do, they make it theirs.)
I could go on and on and I'd still just be talking in circles, so I'll wrap this up by stating the obvious: I love Hefner. I think you will too. Boxing Hefner is a great record & a perfect introduction to the band. Don't be deterred by the fact that this is technically an odds & ends record (2 songs are unreleased, 5 are unreleased [and fairly different] versions of older songs & 5 have appeared on record before). It's every bit as good as the other two. I trust that everyone reading this has been totally wrapped up in a band/record before & I hope that if you get anything from this review, it's that sense of being so in to something that you want to say 100 things at once & you're never sure if you've said any of it. Thanks for reading.