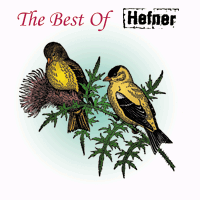 Originally released 27th March 2006 on Fortune and Glory.
A collection of singles, live favourites, b-sides and rarities, The Best of Hefner re-releases twenty of the band's most-loved songs.
Review from http://drownedinsound.com/releases/7279/reviews/726346-
BY BEN MARWOOD
In an ideal musical world where the cream does actually rise to the top and Oasis only had two albums, I would not have to explain who Hefner were. You'd already know, because the indie-rock quartet would be on every Q list ever and on MTV2 at every opportunity; there would be no escape. But life isn't fair kids, life's a bitch and it hates you. Life will break your heart.
That was the point of Hefner, a band renowned for the songwriting of Darren Hayman, for whom lyrical heartbreak lied around every corner. Whilst the 'cool' bands wrote songs about the lack of intelligence in the NYPD, Hayman wrote about the Trojan War and the future death of Margaret Thatcher as well as the countless lost loves. The songs of Hefner, whether it was their ultra-lo-fi first recordings or the polished electronica which proved to be their curtain call, were so tactile that they almost reached out and touched you and so honest, so laced with frustration that on occasion it made Belle & Sebastian look bland. "Everytime you cry, it gives me little heart attacks", sobs Hayman on 'Good Fruit' with an observation so tiny that most writers would never consider it for a lyric. Coupled with a no-nonsense attitude towards intimacy ("you should be lying on your back with a glow in your heart" comes the sleazy observation in 'Pull Yourself Together'), this is what earmarked Hefner, for me at least, as something special.
The Best Of Hefner, then, is a cross-section of the six years that Hefner were properly active, featuring both ultra-rare songs, like 'A Better Friend and the original version of 'Christian Girls, and their 'hits' 'I Took Her Love For Granted', 'Good Fruit' et al. Unlike most Best Ofs, this is not just a tired singles compilation (although all singles are present and correct), the fan favourites are on here also from the masturbatory tale of b-side 'Hello Kitten' to the Conservative-baiting playground singalong that is 'The Day That Thatcher Dies'. True to the entire back catalogue, even two tracks from less popular final album Dead Media ('When Angels Play Their Drum Machines' and 'Home') are included, and when their electronica sounds are put back to back with the guitar-based portion of the back catalogue new life is breathed into them – they work much better intermingled here than they ever did mixing with their own kind.
If there is one criticism that could be made, it is that with a slew of excellent b-sides behind them only 'Hello Kitten' made the final cut, but it should go without saying that fans of Hefner will want to own this CD for the first few rare tracks, if not just to complete the collection. For anyone who missed out and is intrigued then I implore you: if you've ever been heartbroken, if you've ever looked at the coquette from down the road and thought "well, maybe..", if you like your music honest, slightly filthy and faintly twee then do yourself a favour, make this top of your list.
Buy The Best of Hefner on CD
Buy the 'Best Of' downloads from Bandcamp for £5.99