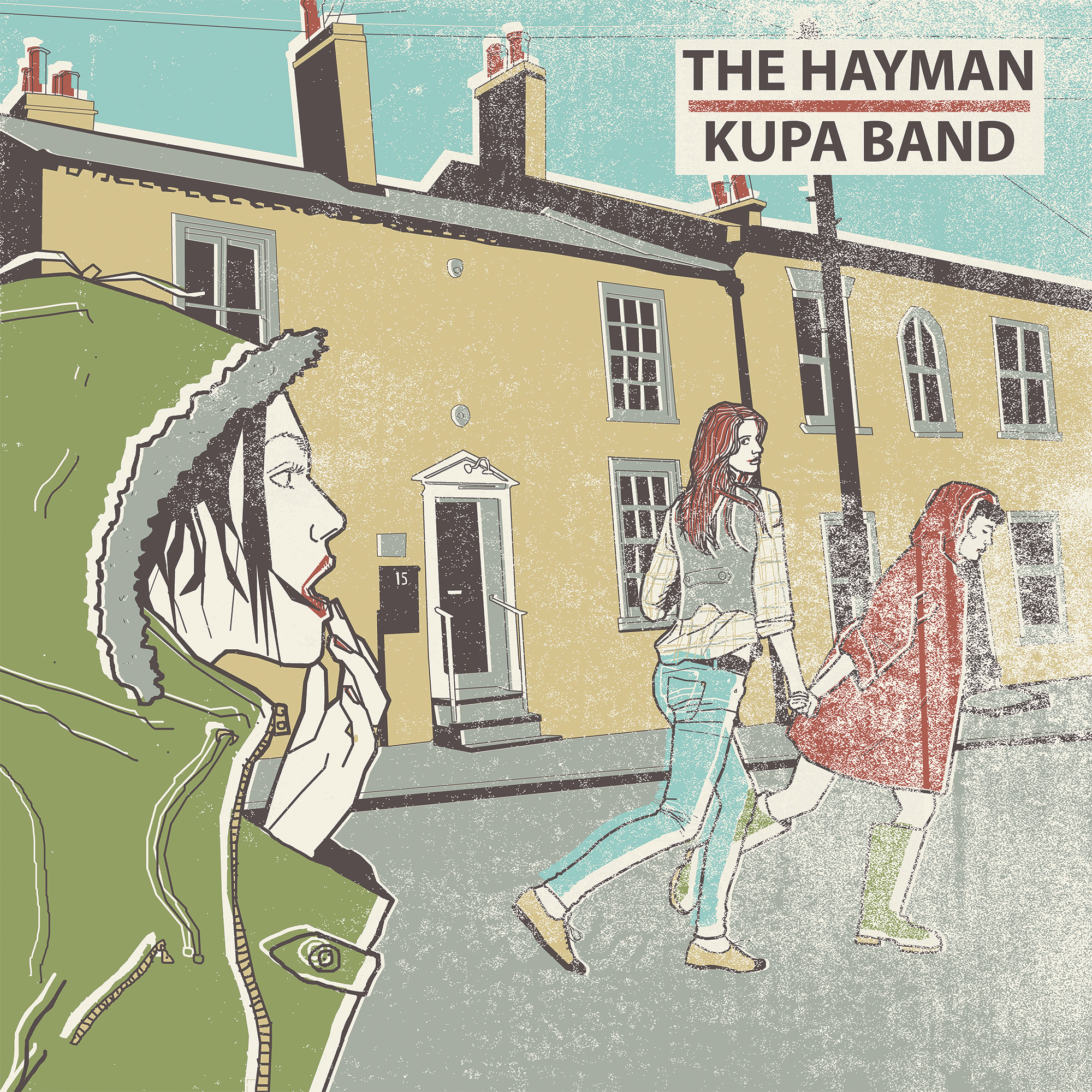 Gathering together a rhythm section consisting of Michael Wood (Whoa Melodic/Singing Adams) on bass and Cat Loye (Fever Dream) on drums, The Hayman Kupa band create brash, bold and effortlessly melodic power pop. Sharing writing duties and sometimes singing each other's words, lines are blurred and creativity explored in a wonderfully exuberant collection of songs. The album, recorded in three days at Big Jelly Studios in Ramsgate, is an exploration of relationships and, at its heart, it's the sound of a friendship being made.
Darren explains more about the collaboration and how they got the band together:
It's only happened a few times but just once or twice I have seen someone on stage and thought, "I want to be in a band with them." But I thought it the first time I saw Emma playing with her magnificent and under-rated band Standard Fare.
I met her properly a little later in Sheffield when we played together. Before the gig I said I was suspicious of bands that wore hats. She wore a hat on stage.
They say imitation is a form of flattery and I was glad that I noticed when I wrote the song "Boy, Look at What you Can't Have Now" that it sounded like the sort of thing Emma might write. I covered up my theft by asking her to sing on it.
When we were recording the song I suggested that we should write a whole album of duets. Musicians suggest things like this all the time because they are stupid or drunk. A few months later Emma told me she had started writing the album. This is what Emma does; she says something then does it. I race to play catch up.
The songs were written over three weekends at her house and mine. Co-writing is something I'm not used to. It's very intimate and me and Emma became friends through the process. Emma's lyrics are sharp and precise whereas mine are more metaphoric. It was lovely seeing how quickly we settled into something in between. 

We talked about relationships and that's what the album is about. It's about our fears and paranoias and the search for trust and love. We deliberately swapped lines and genders so the narrative is never truly that of traditional duets. I sing Emma's lines often and she sings mine. It's two voices singing the results of our conversations. We became close friends whilst writing these songs.
We wanted a band to make the album and chose Michael Wood and Cat Loye. We never considered anyone else. They brought a brash, bold sound to the songs and we rehearsed twice and then recorded the album in three days at the Big Jelly studios in Ramsgate.

I was thinking about the Beatles and very early 1960s pop records. We recorded everything live including the vocals with only a handful of overdubs. 
We put a microphone high up in the ceiling to get bright, rackety sound and mixed it in mono.

 We recorded it two and a half years ago and it has remind locked like a time capsule whilst me and Emma released five other albums.

 I like this album a lot. It's the sound of a friendship being made.
Buy the Hayman Kupa Band Album now
Order Hayman Kupa Band Album on CD INCLUDING POSTAGE AND PACKING
Order Hayman Kupa Band on vinyl with download code INCLUDING POSTAGE AND PACKAGING
Or download from Bandcamp for £7