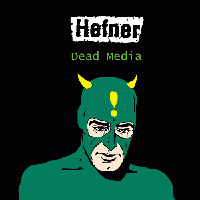 Released 24th September 2001; 2 CD version released 4th July 2011.
In their relatively brief lifetime, between 1996 and 2002, Hefner enjoyed an incredibly productive four-album, multi-EP career. Their beautiful, concise, intelligent songs earned a fiercely loyal, cult audience and the long-term support of legendary DJ John Peel, for whom they recorded innumerable sessions.
Originally released in 2001, their final album, Dead Media , found Hefner reaching out and taking risks. Keen to break free of their indie-folk roots, they cocooned themselves in a home studio with

broken analogue synthesizers, antique drum machines and battery-powered amplifiers. The band's naivety and guile produced some curiously engaging music, with frontman Darren Hayman's precise, economic, poetic dissections of quotidian romance draped over awkward, fuzzy beats: something like Cat Stevens covering Warm Leatherette.
Dead Media caused confusion at the time and ultimately lead to the band's break up. However, songs like 'Junk', 'The Nights Are Long' and 'When The Angels Play Their Drum Machines' are among Hayman's most adult and affecting essays and stand out among the finest of Hefner's achievements.
This two-disk reissue tells the full story of Hefner's valedictory folly, with a hefty 20 extra tracks including the complete 'Hefner Brain' EP, B-sides, live tracks, unreleased songs and an exclusive, unreleased remix by electronic music pioneer Daniel Miller (composer of the aforementioned 'Warm Leatherette').
Review from http://soundsxp.com/
Article written by Paul M – Jun 12, 2011
Dead Media first appeared in 2001, becoming 
Hefner
's fifth album in a very prolific four years. I don't remember any Dylan-esq yells of "Judas" from the back of the auditorium at the time but it certainly wasn't universally popular with the anoraked teddy-clutching fraternity. An experimental departure from their previous lo-fi produced guitar efforts, it proved to have something of a divisive effect on their fan-base. The cause of the consternation was the fact that the strings of old had been replaced by analogue synths so while lyrically it was as intelligent and witty as ever, musically it was less indie guitar folk and more a midpoint between Joe Meek cheesy electro-pop and early Depeche Mode casio futurism.I don't think Darren Hayman ever considered this anything more than an enjoyable diversion, one in which another Hefner member, Jack Hayter had more of an input than previously, but the 'backlash' killed the band. So was the mixed reception justified? Well, we at SoundsXP loved it at the time, voting it album of the year in our annual writers' poll (and this in a year that featured the Strokes debut) and listening to it ten years on, I still do. It all remains clearly Hefner and the wonderful material Hayman has produced since suggests he enjoys slapping his pinkies onto the ivories occasionally even now. 
When the Angels Play Their Drum Machines
 is brilliant; its rumbling synth backdrop accompanied by cute overlaying bleepy melodies and one of Hayman's trademark tales of love and lust. Storytelling is of course one of his greatest talents and 
Alan Bean
 is Hayman at his best, recounting the tale of the forgotten fourth man on the moon. Another single, 
Trouble Kid
, is glampop but with electronic samples. However it is not all drum machines and keyboard wizardry, there's the odd pedal steel thrown in to really prod a finger into the ear of the narrower minded listener, with 
The King of Summer
 another highlight, with its languid country barroom blues.If none of this has convinced you that you need to splash your cash then maybe the extras will, with the original fifteen track LP boosted by a swathe of additions; old b-sides, radio session tracks, remixes and the Hefner Brain EP. In other words an even more stunning 35 tracks over two discs.
Buy Dead Media on 2CD
We also have limited stock of the original Dead Media CD release
Or buy the download from Bandcamp
Dead Media – Singles
Half A Life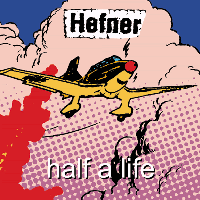 Originally released 21st January 2001
Released as a split single with Murry The Hump's 'The House That Used To Be A Ship', the home-recorded 'Half A Life' is one of only two Hefner songs to feature Jack Hayter as a lead vocalist, and marks a turn towards the more electronic style which would define Dead Media.
Alan Bean – 2CD/7-inch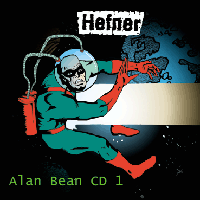 Originally released 27th August 2001
A song about the fourth man to walk on the moon ('the Ringo Starr of astronauts', as Darren puts it), 'Alan Bean' was released on 2CDs with the b-sides 'Horror Show' (intended 'to sound a bit like Missy Elliot's "Supa Dupa Fly"', claims Darren), 'A Better Man', 'Just Take Care', and 'Charlie Girl' (with a drum loop 'sampled from someone so incredibly famous I couldn't possibly mention'). The 7-inch includes two remixes by Rothko and Munit.
Buy Alan Bean CD-1
Buy Alan Bean CD-2
Buy Alan Bean on 7-inch
Trouble Kid
Originally released 22nd October 2001
'Trouble Kid' was released on 7-inch and promo-only CD, and featured two remixes of the single as b-sides: Darren's own Battersea remix, and Appliance's Maproom remix.
Buy Trouble Kid on 7-inch
Dead Media – Related records
The Hefner Brain
Originally released 25th February 2002 on Too Pure.
Representing the last official Hefner release, The Hefner Brain was a 5-track EP released on CD and 10" vinyl. Tracks include the Mothership mix of 'When The Angels Play Their Drum Machines' (which Darren considers better than the album version), the 'last great Hefner songs' 'Dark Hearted Discos' and 'The Baggage Reclaim Song' (the latter of which marks the last time all four band members played on the same track), and 'Can't Help Losing You'.
Buy The Hefner Brain on CD