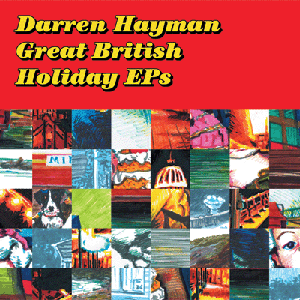 Released 4th August 2008
Between 2005 and 2007 Darren released four EPs detailing his holidays in Britain, taking ukuleles, minidisks and Casio keyboards to caravan parks, Butlins and B&Bs. The songs are sweet and tender, lo-fi vignettes of lost youth, faded photographs and half-understood Britishness.
Also included is a DVD featuring 5 videos and an interview with Darren about the project shot on the coast in Kent.This is quite a package: as well as featuring all of the EP songs and all the original artwork in a 16 page booklet, Darren has recorded 3 holiday cover versions; Holiday Road (originally by Lyndsey Buckingham from the film National Lampoons Vacation), Margate (originally by Chas and Dave) and V.A.C.A.T.I.O.N. (originally by Connie Francis)
Buy the Great British Holiday EPs on CD and DVD.
Buy this on download from Bandcamp for 6.99