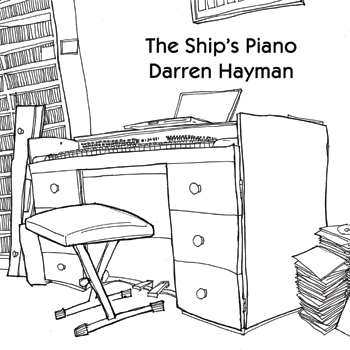 Released 17th October 2011 via FortunaPOP
In November 2009 I had this thing happen to me, where I ended up in hospital with a fractured skull. For a few months I felt constantly dizzy and was diagnosed with some deafness in one ear. Sharp loud noises bothered me greatly. I was told to rest and do nothing, but who knows how to do that?
Music always helps when I'm ill, so I started to make the simplest, quitest music to help me recuperate. I tried to make the music that I wanted to hear, which is perhaps what we should always be doing, but in this case there was a direct therapeutic need.
I avoided any jagged edges. I kept imagining the sounds I wanted as round and smooth, like well-worn pebbles.
Lyrically I also found myself eschewing conceptual and metaphoric character led songs. I started to write the simplest and most direct words in the first person, something I have avoided for a few years.
If you are a songwriter and something bad happens to you, people say, "You can write a song about it at least." They mean well, but the big events in life have to seep out gradually with me and not in urgent, confessional bursts. The songs on this record are pleas for calm. As I get older I find I prefer small, quiet things.
All the songs were written on my ship's piano. 'Ship's Piano' is a colloquial term given to small-scale pianos that were used on boats. Mine was built in France in 1933 and folds away to resemble a sideboard. I wrote a song where I imagine its history. It's called 'The Ship's Piano'.
Buy Ship's Piano on CD
Buy Ship's Piano on vinyl with download code
Or download from Bandcamp for £6.50 here:
The Ship's Piano – Related records
I Taught You How To Dance
Originally released 21st November 2011 on Fortuna Pop.
'I Taught You How To Dance' is the sole single from The Ship's Piano. Sweet, gentle, and with just a hint of sexual tension, it offers an ideal sampler of the warmth and complexity of Darren's solo piano album. 'I Taught You How To Dance' is available on 10-inch 4-track single only, and also features three covers of other songs with 'Dance' in the title: 'Dance Away' by Roxy Music, 'I Don't Want To Dance' by Eddy Grant and 'Come Dancing' by the Kinks.
Buy I Taught You How To Dance on 10-inch vinyl