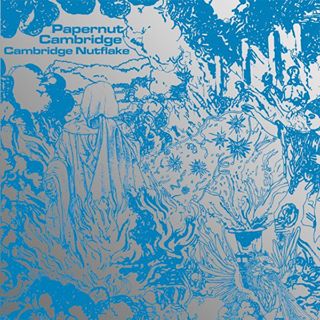 If you've followed me on Twitter recently then you've seen me raving about my friend Ian Button and his new band Papernut Cambridge.
It's that rare thing, a band that arrive fully formed and in complete command of their vision and music. I can't recommend this album and seven inch set highly enough.
I play saxophone and synths on several tracks and Ian himself sometimes deputizes Dave S on drums at my gigs.
Ian Button has just produced my new, soon to be released album too.
Papernut Cambridge have received rave reviews from Q and MOJO and received Radio play on 6Music.
Limited Edition 12″ vinyl LP and 7″ vinyl EP package
GDNLP002 and GDN45001 set.
Vinyl 12″ LP and 7″ EP package: the definitive stereo mix/version of the album/EP pressed on 140g frosted clear vinyl.
Both the 7″ and the LP have spined outer sleeves printed on 300gsm card and printed silver inner sleeves on 200gsm art paper. Both come with clear plastic overbags.
Limited to 200 copies of each.
PLEASE NOTE: LP and EP not sold separately.
Downloads included with every vinyl purchase:
1. Alternate MONO mixes of the vinyl versions.
2. A bonus set of STEREO mixes with expanded instrumentation, different takes, processing etc.
Cover art is a reproduction in silver and blue Pantone ink of "Giordano Bruno vs. Nicole Aubrey and the Calvinist Ghosts" by Alex Templeton Ward.
Includes download of 26-track album in the high-quality format of your choice (MP3, FLAC, and more), plus unlimited mobile access using the free Bandcamp listening app.
Buy the Papernut Cambridge Vinyl LP and 7inch Set Direct from Darren