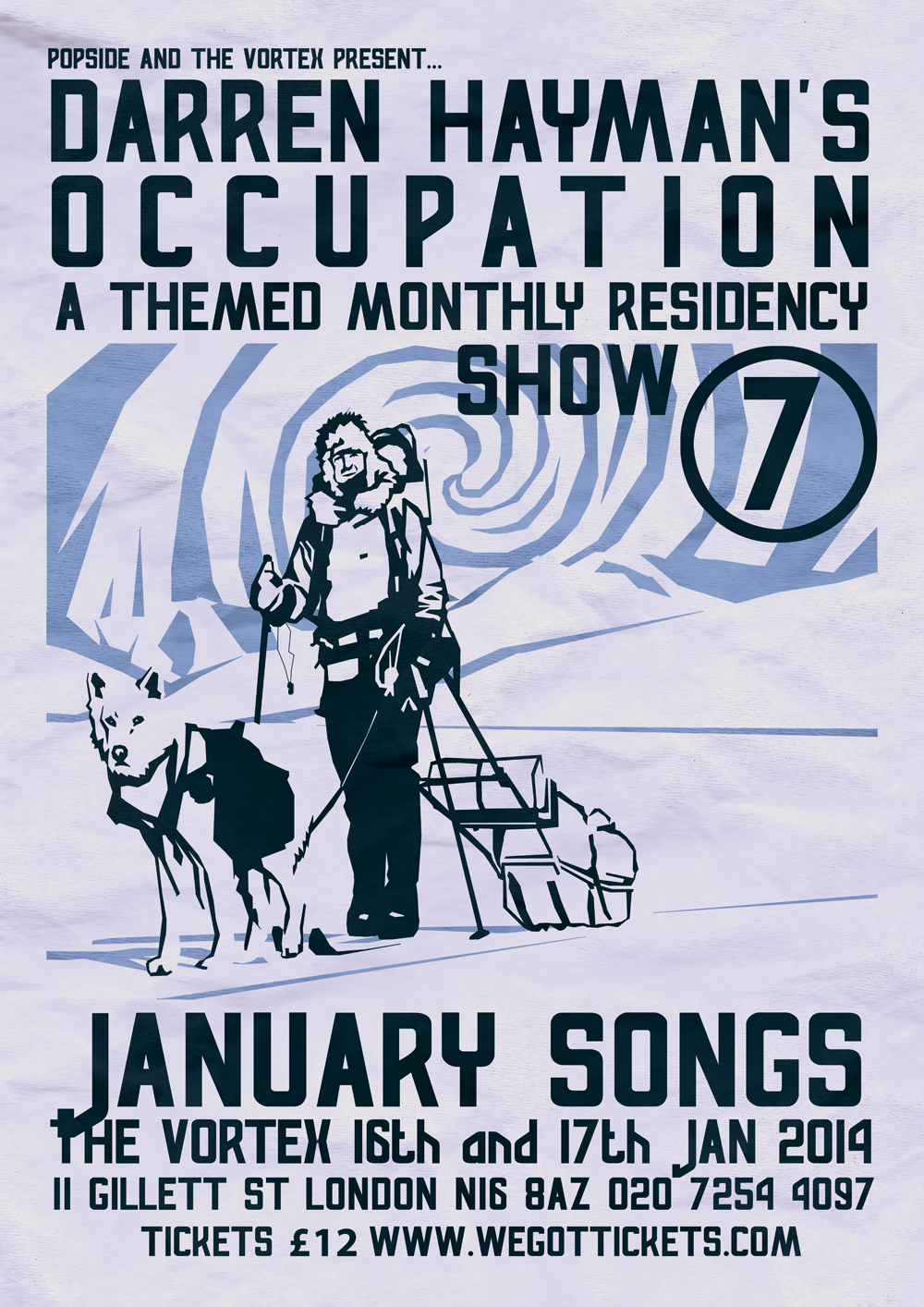 During January 2011 Darren Hayman, ex-Hefner, wrote a song for every day of the month. It was an incredibly frantic period of work. Each day not only included the writing of a song, but also its recording and the making of a video, and an online diary.
"Even in this age of downloads I can still get frustrated about how long it takes to release records," says Hayman. "I wanted to make something instantly and, without anytime for editing or revision, release it and make it permanent.
The project became eclectic through necessity. The songs range from glam disco stomps, through folky laments and acapella hymns to jazz backed spoken words.
"I knew some sort of theme would reveal itself gradually through the work," continues Darren, "and that theme became one of release and escape. Lots of the songs are about imaginary or longed for havens."
It can all be found archived here
January Songs was also released as a hand drawn two CD set and can be found in our shop.
Apart from one or two tunes January Songs has only been performed once, back in January 2012 upon the release of the CD.
It should come as no surprise that the two January Occupation shows will consist of an exclusive performance of January songs.
THE TWO SHOWS WILL FEATURE DIFFERENT SETS.
SHOW 1: THURSDAY 16TH JAN WILL FEATURE SONGS FROM THE FIRST HALF OF JANUARY SONGS. WITH SUPPORT FROM THE ROZI PLAIN FROM LOST MAP RECORDS.
http://www.wegottickets.com/event/247385
SHOW 2: FRIDAY 17th JAN WILL FEATURE SONGS FROM THE SECOND HALF OF JANUARY SONGS. WITH SUPPORT FROM THE PICTISH TRAIL FROM LOST MAP RECORDS.
http://www.wegottickets.com/event/247386
The Vortex
11 Gillett Square, London N16 8AZ
www.vortexjazz.co.uk
Doors 8pm
£12 Adv
www.hefnet.com
@DarrenHayman
@VortexJazz
@ThePopside
Darren Hayman's Occupation is a series of monthly shows at The Vortex, Dalston. There will be a mix of sets showcasing different albums, themes and special guests. This is not your standard indie gig:
"I love gigs. I hate gigs.
I want to play live and I love what shows can be, but I've found myself frequently stifled by the limitations of my career. I can't play the plush, seated venues and I can't experiment with a string section or play 20 minute opuses.
My music was born in the sticky floored rock venue. I like the sticky floored rock venue but I have had a hankering for something different recently. My own taste has veered towards free improv and jazz and although it's hard to imagine that music influencing my own I do love the culture of live music in this genre.
Long sets, sometimes two, comfortable venues and a reverence and respect for the event and the moment; less talking, less cameras, more dynamics, less microphones.
I wondered if these would let an indie rock interloper amongst their ranks. My show at the Vortex back in last November was successful enough to make me think of playing a monthly residency there.
The idea is that each show is themed. I don't want to go the whole predictable route of playing complete albums, but rather group, types of songs together for different evenings. Experiment, sometimes play two sets, sometimes have unlikely guests. I will be playing with members of my bands from through out my career as well as old friends like the Wave Pictures and Allo Darlin.
The Vortex is a beautiful venue. I'm trying to do something different; something, smaller, prettier. I hope you can come."