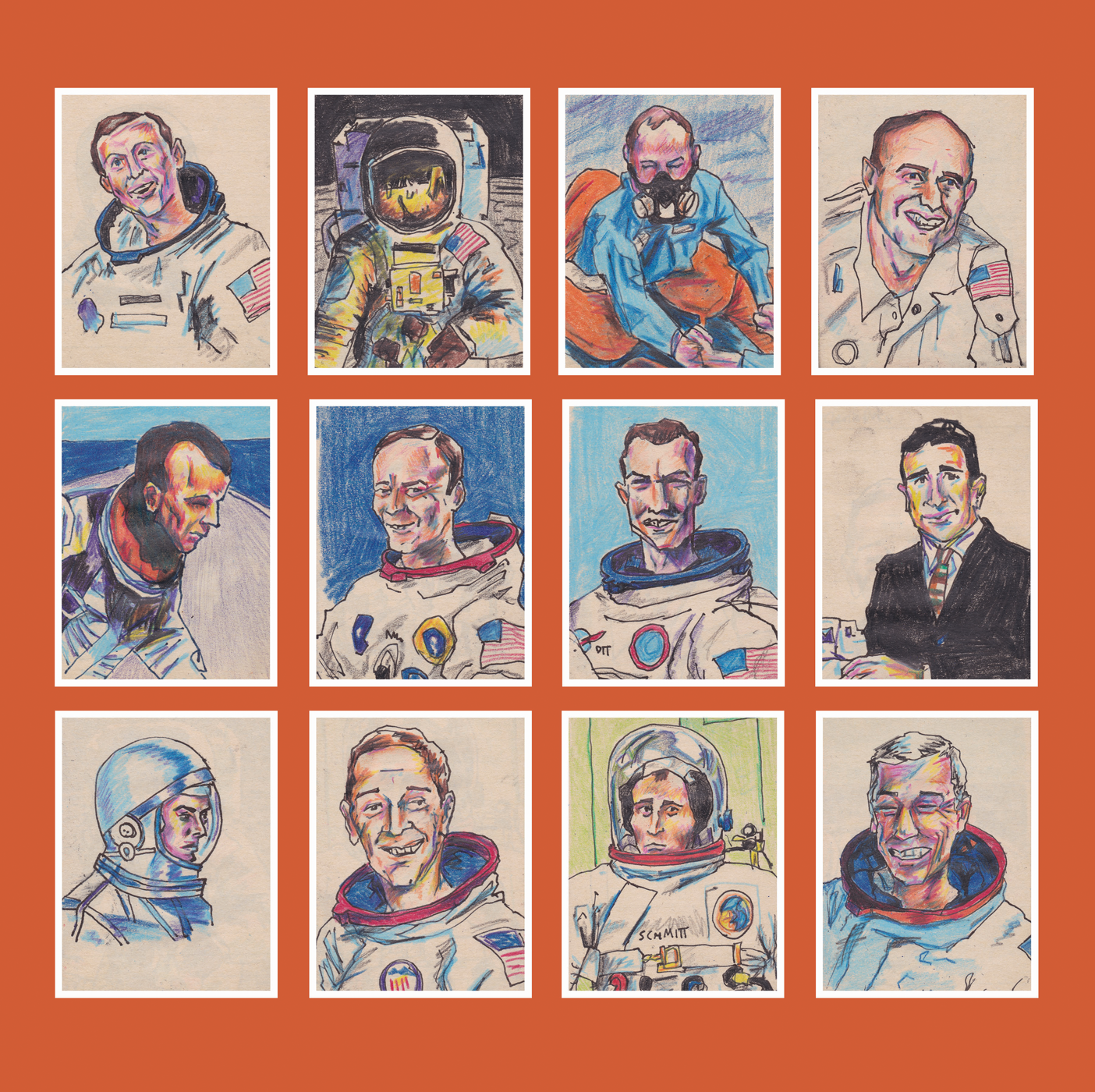 Available now

Always perfectly capturing the zeitgeist, Darren Hayman releases his 18th solo album, 12 Astronauts, on the 50th anniversary of the Apollo 11 moon landing
12 men have walked on the moon, and 12 Astronauts includes a song for each of them – from Neil Armstrong to Harrison Schmitt and Gene Cernan (the Apollo 17 astronauts who quibble about who was the last man on the moon – was it the last person to set foot on the moon (Schmitt) or the last person to take his foot off the moon (Cernan))
Darren has always had an interest in space travel;
o In 1977 he saw Star Wars
o Back in 2001 Hefner (Darren Hayman's previous band) released a single called Alan Bean about the 4th man on the moon (an all new version is included on 12 Astronauts).
o In 2011 he contributed songs and pictures to Vostok 5, a London exhibition (and compilation album) about people and animals in space (he has also illustrated the cover of 12 Astronauts).
o In March 2014, as part of a year-long residency at Dalston's Vortex, he played a set of his space-related songs supported by Robin Ince (this included the live debut of a number of tracks from 12 Astronauts).
o His record label, 'Belka', is named for one of the first two dogs to go into earth orbit and return alive, so it should come as no surprise that the 12 Astronauts were in the back of his mind while he researched, wrote and recorded his classics about Thankful Villages, the Essex Witch Trials, Lidos, William Morris and British seaside resorts
The songs are works of historical fiction. Although Darren researched heavily he is essentially imagining himself as each astronaut and singing in the first person. The songs are not all set during the Apollo missions. Buzz Aldrin battles with his demons and fights for his marriage. Pete Conrad sympathises with his partner's fear of an accident in flight. David Scott wonders what happened to his bodyguard on his press tour. Gene Cernan lists every object he can think of that was left on the moon.
Although the subject is big Darren has always written songs about small things and this album is no different. Darren collects together tiny moments from magnificent lives.'
The album itself is curious in its genesis as Darren conceived and started the album back in 2008 and only recently came back to complete it. Some of the vocals are recorded 10 years apart.
The album is released on space coloured vinyl (in spot-gloss sleeve), CD (with fully illustrated booklet), download and as a set of 12 collectors cards.
Order 12 Astronauts on CD INCLUDING POSTAGE AND PACKAGING
Order 12 Astronauts on 12 Collectors Cards plus downloads INCLUDING POSTAGE AND PACKAGING
Or pre-order from Bandcamp for £7