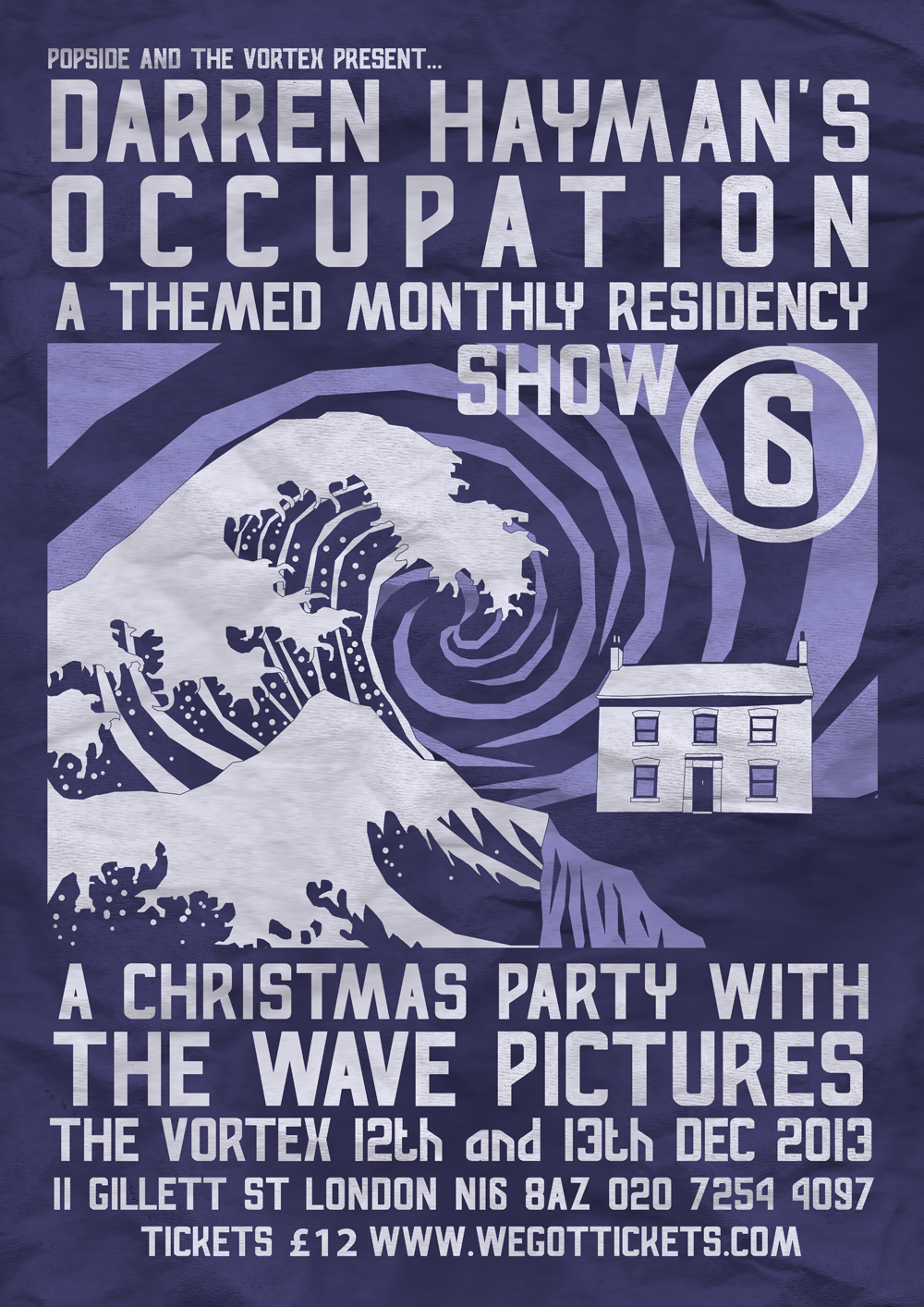 Occupation Show 6 at the Vortex Club will be over two nights on the 12th and 13th December. Darren will be playing sets with The Wave Pictures.
It's a long time ago not but when the Wave Pictures first moved to London back in 2006 for a short while there were the original Secondary Modern. Darren took them to Spain with him and they also did a few UK shows. Since then they have collaborated regularly, playing on each others records and Darren directing Wave Pictures videos.
In 2011 they made a single together 'Who Hung the Monkey', part of the January Songs project.
To make the show extra special we are going to try and organise a secret santa event. Every ticket holder should try and bring a £5 ish present and all of the presents will be swapped and distributed throughout the night.
THE SETS ON BOTH NIGHTS WILL BE LARGELY SIMILAR.
Thursday 12th December http://www.wegottickets.com/event/242735
Friday 13th December http://www.wegottickets.com/event/242738
The Vortex
11 Gillett Square, London N16 8AZ
www.vortexjazz.co.uk
Doors 8pm
£12 Adv
www.hefnet.com
@DarrenHayman
@VortexJazz
@ThePopside
Darren Hayman's Occupation is a series of monthly shows at The Vortex, Dalston. There will be a mix of sets showcasing different albums, themes and special guests. This is not your standard indie gig:
"I love gigs. I hate gigs.
I want to play live and I love what shows can be, but I've found myself frequently stifled by the limitations of my career. I can't play the plush, seated venues and I can't experiment with a string section or play 20 minute opuses.
My music was born in the sticky floored rock venue. I like the sticky floored rock venue but I have had a hankering for something different recently. My own taste has veered towards free improv and jazz and although it's hard to imagine that music influencing my own I do love the culture of live music in this genre.
Long sets, sometimes two, comfortable venues and a reverence and respect for the event and the moment; less talking, less cameras, more dynamics, less microphones.
I wondered if these would let an indie rock interloper amongst their ranks. My show at the Vortex back in last November was successful enough to make me think of playing a monthly residency there.
The idea is that each show is themed. I don't want to go the whole predictable route of playing complete albums, but rather group, types of songs together for different evenings. Experiment, sometimes play two sets, sometimes have unlikely guests. I will be playing with members of my bands from through out my career as well as old friends like the Wave Pictures and Allo Darlin.
The Vortex is a beautiful venue. I'm trying to do something different; something, smaller, prettier. I hope you can come."