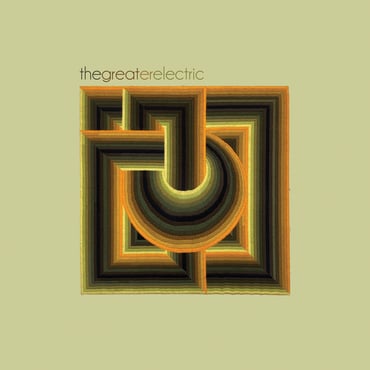 The Great Electric return with their second full-length album The Greater Electric, released on WIAIWYA on 1st Oct 2021.
Darren Hayman from Hefner plays keyboards and saxophone on this record and is also a co-writer on all songs.
Recorded in and around their native South London, this record sees the band building upon their love of sound collage, improvisation and cut-and-paste recording techniques.
The record sees the band build upon the first album's motorik psychedelia, with the palette of influences on this record expanded to include early Simple Minds, ambient pioneer Hirosmi Yoshimura, and the avant-pop of Franco Battiato.
2020's enforced remote collaboration was no huge change in process for the band, as it's an approach they've always thrived upon since their inception. Large sections of the record were recorded individually before being passed between home studios, where individual parts were layered in before being passed on, Chinese Whispers-style.
HARKONEN, the 25-minute album opener, was shaped from hours of extended improvisation, including long sections recorded live with Damo Suzuki of Can. As it evolves, the track veers between textured motorik rigidity, dreamy psychedelia, pulsating psych-rock, and bitcrushed noise to the extent the pressing plant asked if the mix was supposed to sound like that.
Elsewhere the band showcase shorter, more immediate pop songs such as the triumphant optimism of VanDen Plas. The track builds continually, welding a celestial ensemble of Michael Rother-inspired guitar textures and layers of analogue synth melody.
The Red Forest combines the textual interplay of vibraphone and piano with the rigid timekeeping of a drum machine, building to a Foxtrot-era Genesis crescendo drenched in layers of Fripp-ian fried cosmic fuzztone.
Elsewhere, Jogging imagines the motorik sound presented in an alternative universe where vast stadium audiences clap along Radio Ga-Ga style, while Afterburner fizzes with layered, woozy Ry Cooder-meets-Eno intertwined guitar and synth melodies.
With The Greater Electric, the band have combined an even wider palette of influences reaching far back into the historical canon of motorik psychedelia that they showcased on their 2017 debut The Great Electric, but it's an album whose immersive production feels firmly rooted in the second decade of the 21st century, and rewards consumption in a single sitting.
About The Great Electric
Featuring alumni of bands as diverse as Kenickie, Hefner, Mum and Dad and Go-Kart Mozart, The Great Electric need little in the way of introduction.
Formed back in the winter of 2012, after a debut EP on the Static Caravan imprint, the band released their self-titled debut album on the ever-reliable WIAIWYA imprint in 2017 to critical acclaim.
The band's sound is shaped by a shared love of classic German electronic and progressive acts of the 1970s coupled with the pop music sensibilities, hooks and production of 90s groups such as Stereolab, Quickspace, Pram and Electric Sound of Joy.
The Greater Electric represents their first new material in three years, recorded in and around South London.
Pete Gofton – Production + Bass guitar | Malcolm Doherty – Guitars | Darren Hayman – Synths + saxophone | Rob Hyde – Drums
Praise
"A record to get lost in, its undeniable charms gently revealing themselves on repeat listens"
For The Rabbits
'A star-hopping cosmic ride on a sonic surfboard fused of equal parts La Dusseldorf and Silver Apples'
The Sunday Experience
released October 8, 2021
Order The Greater Electric on gold coloured vinyl here!
Please take care to choose correct worldwide location.
The Greater Electric
You can also buy the download from Bandcamp here…